A
"We're not that kind of artist. Not tool type"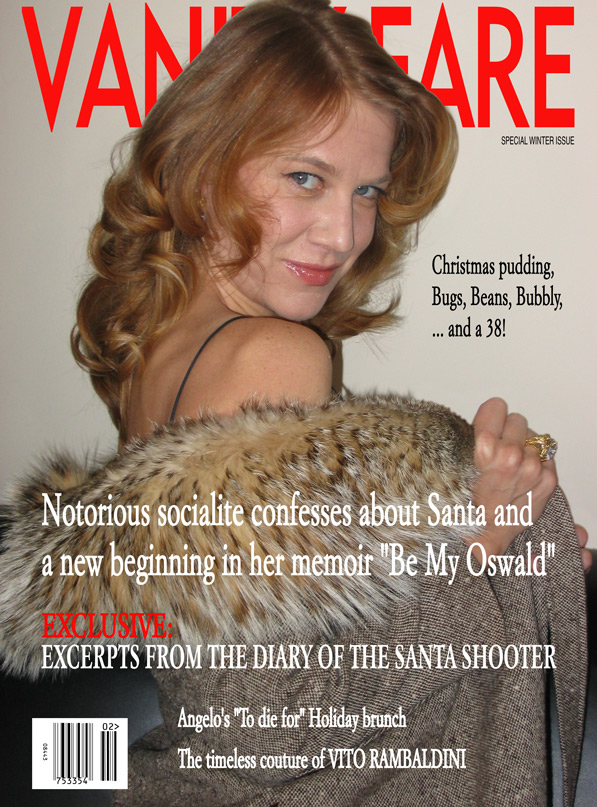 An "only" child whose mother was 45 when she was born and raised by the maid. Attended several private grammar schools. Never rebellious…. Or interested in studies. Distinguished herself by generously spending her allowance on everyone and anything that amuses them. Not a "joiner" but always in demand. The apple of her daddy's eye but daddy died when she was 14. She briefly attended several finishing schools, however she was constantly bored and she dabbled at prestigious ivy colleges before landing in Briarcliff. She had an affair with a noted and married Political Science professor and subsequently decided to take a permanent time off from studies.
Member: D.A.R.,
Family estimate value: 10 figures.
Never held a job.
Never registered to vote.
Someone pays income tax for her
She smokes.
Favorite movie: Pretty Woman.
Favorite Magazines: Vanity Fair, Town & Country.
Favorite designer: Ralph Lauren & Gucci.
Favorite bauble: pearls.
Favorite bag: Coach for country, Prada for city.
Favorite shoe: Jimmy Choo.
Favorite book: The Zone.
Favorite home: The Hamptons or Palm Beach.
Favorite eatery: 4 Seasons
Favorite thing: The Spa.
Favorite hotel: The Plaza.
Favorite drink: Bubbly.
Favorite color: depends on the season.
B
"The new lie becomes the new truth."
Blood type: B+.
Vegetarian. Smoker. No fingerprints on record. Rumored to be multi-billionaire industrialist Walton P. Jeffrey's activist daughter, Bonny, who disappeared 23 years ago. The Jeffrey family is still involved in an ongoing investigation.
Caterer
"I don't judge a person by what they put in their mouth."
High school Cheerleader reserve team.
Jr College drop out.
Twice divorced.
Grandmother smoked legal pot for asthma. Mother died on trip to Mexico that she won on TV game show.
Sister is born-again evangelical and her father was killed by a Grizzly Bear.
She claims and firmly believes that she was abducted by aliens.
Wine drinker and professional pot smoker.
Palm Reader.
Voter Registration: lapsed.
Driver's license: lapsed.
Health Insurance: lapsed.
Library late fee: $385 for her.
Favorite book: Peyton Place.
Favorite movie: Breakfast at Tiffany's
Favorite TV show: Green Acres
State Ping Pong Jr. Champion.
High school dropout. Loves to dance.
Beer buyer for under age.
First job, at 14, errand boy for Italian restaurant owner.
At 21 managed private after hours club, same owner.
Never had a driver's license.
Never owned a computer.
Has extensive record collection.
Really nice stereo.
Owns a speed boat.
Likes a good cigar.
Bourbon rocks.
Catholic.
Always votes Democrat.
Favorite Music: Bee Gees.
Favorite Movie: Saturday Night Fever.
Jazz
"We're taking our business to a better place."
High School cheerleader.
Married a cop who was shot dead on duty.
No kids.
Grows African violets.
Likes to dance & water ski.
Fair cook.
Loves technology.
Keeps Vodka in her freezer.
Loves Comedy Clubs.
Handgun Expert.
Registered Republican.
Favorite Handgun: Glock.
Favorite Vodka: Grey Goose.
Favorite Comic: Richard Pryor.
Favorite Book: Slaughter House Five.
Favorite Band: Ramones.
Favorite Movie: Gloria.
Ugo
"IT'S JUST BUSINESS LITTLE TOM!"
Born in Latvia.
Naturalized citizen.
Westinghouse Science Finalist
SAT 1385.
Attended MIT
Professional art forger
Never owned a TV.
Owns 2 Picasso's.
Never smoked.
Loves chocolate.
Hedge Fund Player.
Registered Republican.
Favorite Chef: James Beard.
Favorite Composer: Sibelius.
Favorite Card Player: Omar Shariff.
Favorite Book: Moby Dick.
Phone Guy
"Ever try to take a crap in this town?'
Eagle Scout.
4 years Army 7th Calvary, Awarded: "Order of the Spur."
1 year Montana rookie league Missoula Osprey.
1 year NW A League Yamika Bears.
Third base, throws right.
Yankee fan.
Married, 2 kids.
Avid camper.
Former smoker.
Union Man.
Methodist.
Politically Independent.
Always votes early in the morning and pays his taxes on time.
Favorite Ball Player: Don Mittingly.
Favorite Book: Huckleberry Finn.
Favorite Movie: Band of Brothers.
Favorite Magazine: Sports illustrated.
Favorite Beer: Micro brew.
Vinnie
"You want space honey, you got space."
Trade School Graduate.
Killer stickball player.
Army Infantry.
Makes homemade beer & sausage.
Uncle is mobbed up.
Plays the Horses.
Proud to be an "American of Italian descent."
Several "girl friends."
42″ Plasma TV.
NY Jets season tickets.
Smokes cigars.
Owns 5 shotguns.
NRA life member.
Registered Democrat.
Union man.
Favorite Car: Shelby Mustang.
Favorite Shotgun: Berretta.
Favorite Movie: Goodfellas.
Favorite TV Show: NYPD Blue & Monday Night Football.
Favorite Girly Magazine: Playboy.
THERE'S NO SUCH THING AS SANTA CLAUS
"
A SERIOUSLY DERANGED DRAMEDY ABOUT FINDING YOURSELF THROUGH TERRORISM…"
-New York Times
BEST FEATURE FILM
"Be My Oswald from the craftsman Don Cato exemplifies the spirit of independent film making at its zenith. The care and attention shown by the 'Oswald' team over the entire gestation of this self financed project shines as a beacon to any film maker who believes that they could also make a great movie. Don and Katha show that with determination and skill you can."
-Director, Swansea Bay Film Festival